Does your product portfolio represent the value that can be delivered to market?

Do you find your current short, medium, and long term planning could be more effective?

Do you spend too much time reconciling actuals with forecasts?

Do your planning and scheduling tools support multi-disciplinary coordination?

Do your planning activities allow you to analyse opportunities and implement changes that unlock additional value?

Do your scheduling activities allow you to co-ordinate and synchronise up and downstream?

Does your business have the best tools to synchronise planning processes with operations?

Are you able to effectively reconcile short term plans with the long term?

Do your planning activities allow you to de-risk operational bottlenecks and capacity constraints?
What customers say about us
"The ability that Paradyn has shown to tailor that to what we need ... the confidence that was initially shown through the proof of concept ... there's been no relinquishment of that confidence through implementation"
"BlendOpt enables us to make smart choices and also the best choices for the business in regard to generating revenues ... a set of tools to easily run through different scenarios in a time efficient manner"
"We should get the best possible scenario or schedule from the IP delivered and that gives us confidence that we are passing out the best products"
"... my favourite thing is the dashboards. The amount of information at your fingertips - quality, tonnages, stockpiles, metrics of all types"
Before BlendOpt: "dread sometimes ... a large scheduling piece in a manual fashion ... it's so manual when you're working through spreadsheets with hard coded numbers ... there's a fear of double counting or not utilizing all the information correctly"
After BlendOpt: "for the long term process the proof is already there like it already shows about how much quicker and much easier it is to do"
Working with Paradyn: "The attention to detail is very, very good. Definitely the communication piece was key - their responsiveness ... to see the mini proofs of concept in the development process and that it's progressing, fills us with confidence that the guys are able to respond to our requirements. Through the whole process ... there's never a no answer"
Software solutions
Paradyn's BlendOpt value-chain platform powered by
Collaborative Mathematical Optimisation (CMO)
can help you:
Optimise for any defined objective and integrate operational, tactical and strategic planning from minutes to years.
Replace your existing planning and scheduling tools with a responsive multi-user application with configurable dashboards.
Automatically explore thousands of scenarios.
Satisfy all of your hard constraints.
Digital Twin your operation and optimise schedules and plans based on a multitude of constraints and objectives, and formulas.
Improve collaboration and synchronisation between planning and operations.
Publish reports to relevant stakeholders.
Generate forecasts and measure their value based on tonnage, revenue, cost reduction.
Reconcile forecast with actuals.
Optimise reserving, processing, blending and logistical decisions.
Optimise your product portfolio for significant revenue uplift.
'What-If' scenario analysis.
About us
Paradyn is an Australian company specialising in mathematical optimisation software for value-chain scheduling, and short to long-term planning, particularly for:
Base and precious metal miners
Dry bulk-commodities
Agribusiness
BlendOpt is for your industry
Take control of the key drivers of performance in your organisation
Visualise material flows across your value chain with BlendOpt's prescriptive analytics and interactive reports - understand the impact up and down-stream of decisions made within your silo operation and synchronise planning with operations.
Coordinate and synchronise
Coordinate your people with integrated planning and scheduling and take control of your operation - control and coordinate planning and scheduling decisions between point-of-origin, processing, stockpiling, logistics and sales using multiple integrated time-horizons from minutes through years, to life of operation.
Integrate and optimise
Quickly create high quality practical plans and schedules that optimises what matters to you - whether it's haulage, rail, stockpiling, feed consistency, processing, product definitions or something else.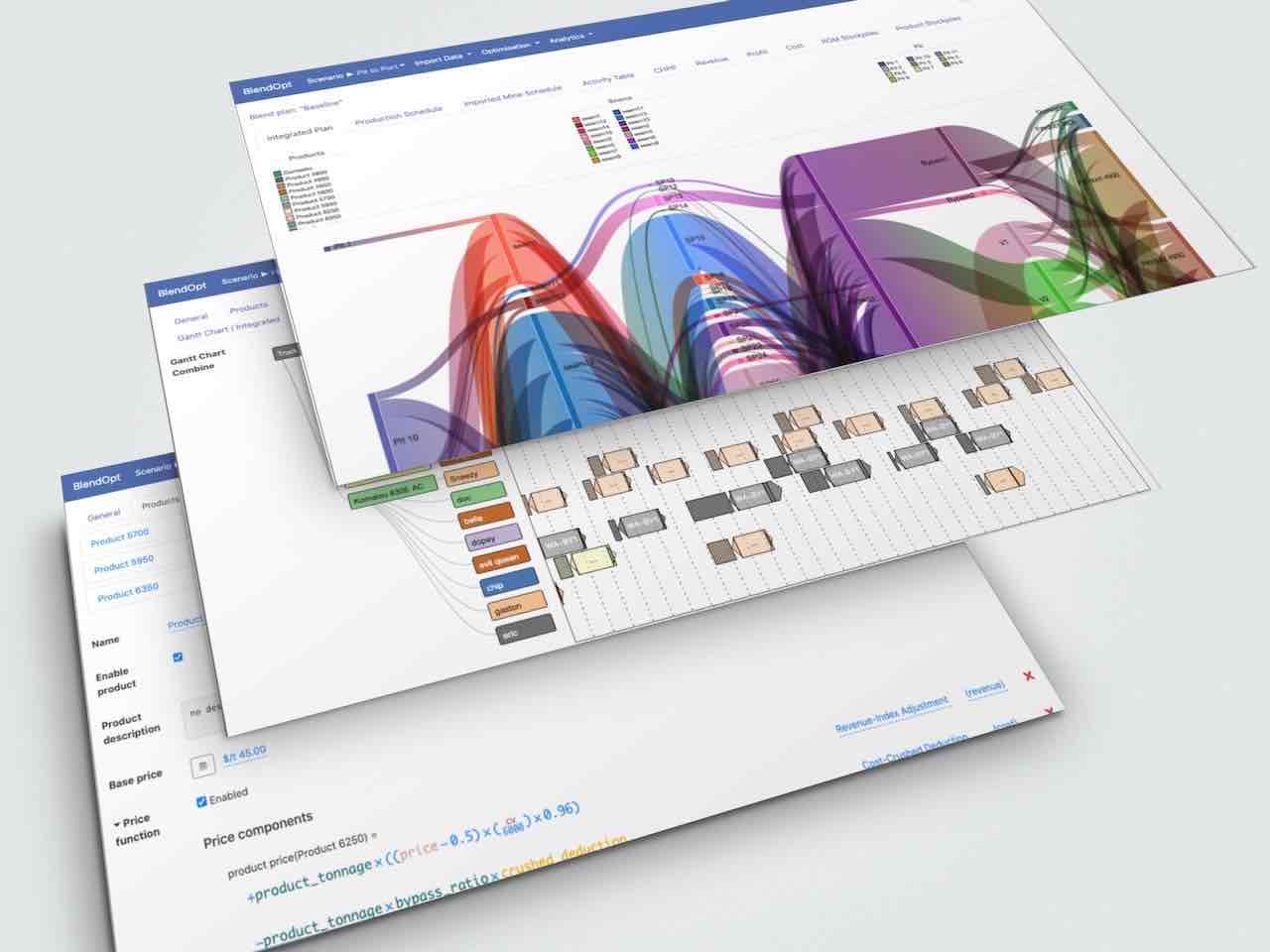 Prescriptive analytics for planning and operations
Mathematically optimise commodity, metals and mining value-chains and automatically generate prescriptive high quality actionable insights for significant cost reductions and revenue uplift. BlendOpt's Collaborative Mathematical Optimiser (CMO) works with you like a member of your team to increase the value of your operation by empowering your individuals, teams and organisation to make great decisions.