Engineered for your value-chain
Coordinate and synchronise
The BlendOpt application supports the coordination of your people and teams with integrated planning and scheduling - with BlendOpt you can take control of the drivers of performance and coordinate planning and scheduling decisions between point-of-origin, processing, stockpiling, logistics and sales using multiple integrated time-horizons from minutes through years, to life of operation.
Prescriptive analytics for planning and operations
BlendOpt mathematically optimises commodity, metals and mining value-chains and automatically generates prescriptive high quality actionable insights for significant cost reductions and revenue uplift. The BlendOpt's Collaborative Mathematical Optimiser (CMO) works with you like a member of your team to increase the value of your operation by empowering your individuals, teams and organisation to make great decisions.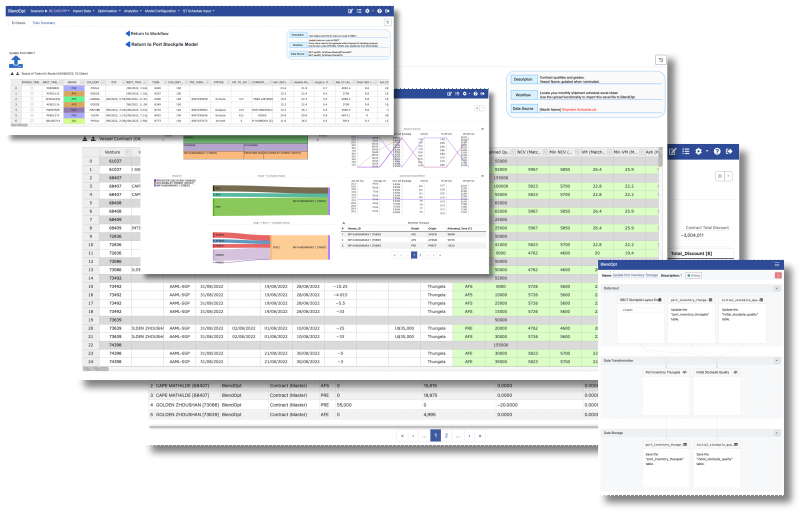 Would you like to
know more?
Do you optimize product placement into the market?

Do you know when Demurrage adds value (can you spot "value justified" demurrage)?

Do you know in what situations your stockpile quality models increase contract rejection risk?

Does your planning software require stable operations, predictable markets, consistent orebodies?

Can you run scenarios to understand your options?

Does your tactical scheduling software automatically synchronize with your longer term planning tools?

Do your schedules reflect conditions on the ground?

Are your schedules tossed in the bin on day 1?
The driver of
performance
With the BlendOpt application you can mathematically optimise for any defined objective and integrate operational, tactical and strategic planning from minutes to years.
Satisfy all of your hard constraints.
Optimise reserving, processing, blending and logistical decisions.
Optimise your product portfolio for significant revenue uplift.
Improve collaboration and synchronisation between planning and operations.
Publish reports to relevant stakeholders.
Reconcile forecast with actuals.
Visualise material flows across your value chain with prescriptive analytics.
Understand the impact up and down-stream of decisions made within your operation.