Optimise your Mining Supply-Chain with
BlendOpt
Increase Profits in Practice, not just in Theory
BlendOpt is a Digital Twin of your Operation
A Digital Twin is a digital representation of your operation within BlendOpt which allows for realistic scenario exploration - via Digital Twinning we don't just theoretically increase your profits, we provide prescriptive insights that lead to real profit gains. We can't wait to show you.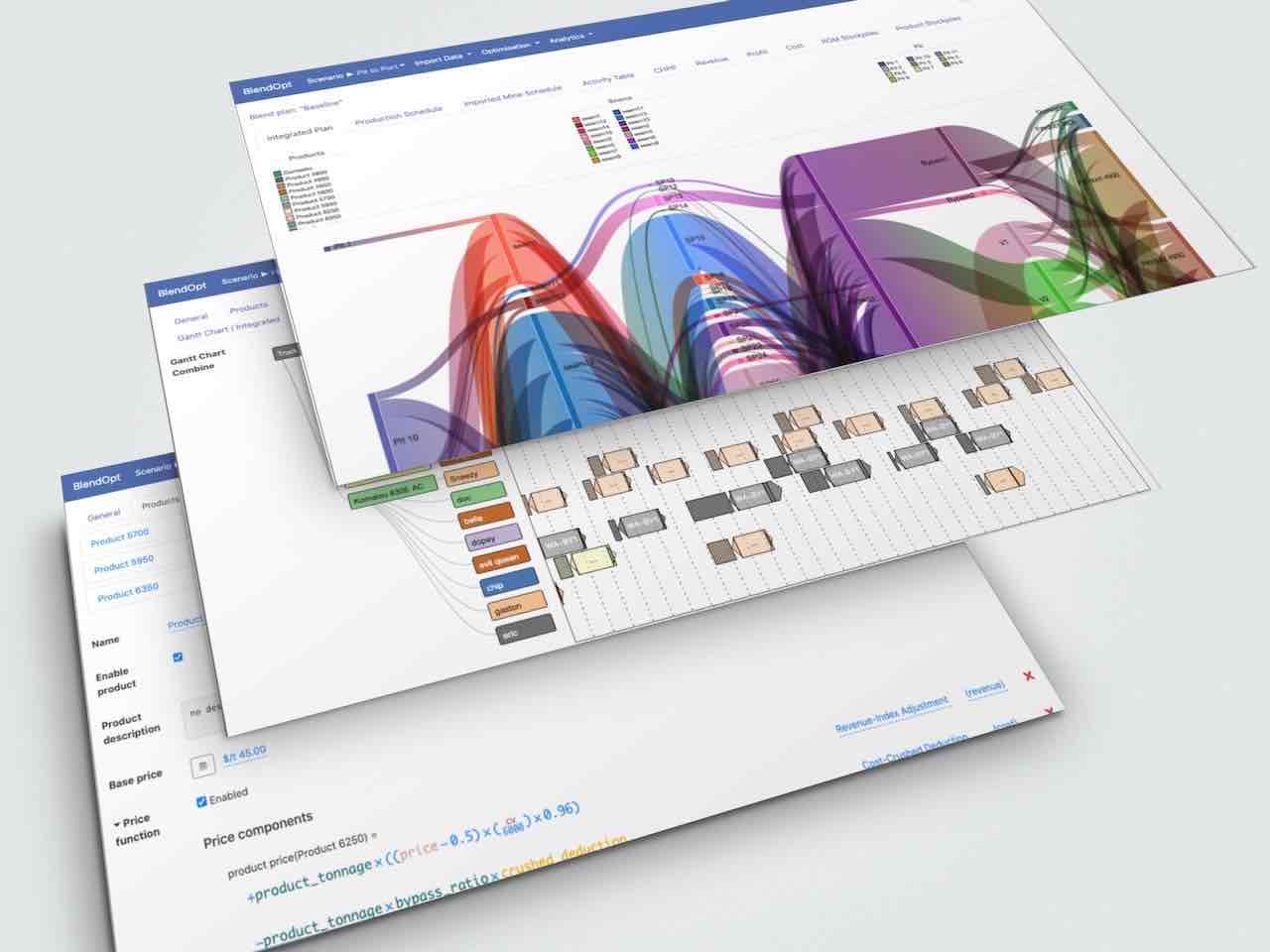 Optimise your
operational decisions

for any mined resource
That's your
BlendOpt Advantage from Pit to Port
Traditional analytics tell you what happened or what might happen - BlendOpt's prescriptive analytics inform how you should act. Extract the insights that matter to you quickly, in time for your meeting or reporting activity.
Outwit Your Competition Today. Every Day
Multi-time Scheduling and Planning from Short Interval to Life-of-Mine
BlendOpt can simultaneously optimise multiple time horizons, Tactical Supply Chain Production Planning Short Interval decisions to multi-year life-of-mine planning within the same optimisation activity - Optimisation isn't just about the best decision for performance over the next hour or shift. BlendOpt's multi-time optimisation ensures decisions made today don't place you in a worse position tomorrow.
Seamless Integration with Existing Systems
BlendOpt literally integrates with anything via integration accelerators - web interfaces, databases, 3rd party dashboards and reporting systems - we can push or pull data to and from anywhere, that's the BlendOpt Advantage.
Actionable Insights from Pit to Port Simulation
So you've already got an optimisation system, but you're struggling to translate plans into practice - Optimising a plan is one thing, but if your software optimises a plan disconnected from your operational realities then what's the point? At Paradyn we've thought long and hard about this problem and we believe we've solved this problem with an approach that captures a Digital Representation of your organisation using the latest advances in Artificial Intelligence. Let us show you how.
Practical Scheduling & Planning - Adapt to the Unexpected
BlendOpt doesn't just discover optimised schedules and plans, it discovers practical mine planning and scheduling solutions via a Digital Twin of your organisation and adaptability to unexpected events, and it does so in minutes, so your schedule and plans can be actioned on time.
For Your Complex Integrated
Operation
Technical Services
Optimise and integrate tactical, operational, and strategic planning
Improved collaboration and integrated operations
Transparent knowledge sharing
Methodical systematic planning
Easily repeatable and learnable
Decision visualisation and transparency with full material traceability
Reporting and analytics for your unique needs
Any price calculation you can imagine capturing every cost and profit consideration you can describe
Quality Reconciliation
Grade Control
Blend Optimisation
SRF - Short-range forecast
Marketing and Logistics
Maximise Integrated Operations Cash Flow to multi-year NPV
Optimise Sales and Operations Supply Integration
Maximise revenue and margins under different market conditions
Optimise risk and cash flow across contracted and non-contracted sales
Determine the greatest economic benefit from any purchasing decisions over time
Automate product portfolio optimisation, breakeven analysis, and sensitivity analysis across market scenarios
Commodity Trading
Concentrates Commodity Trade Management (Inventory and Logistics)
Reduce Treatment and Refining Charges
Optimise Escalators and Payable Elements
Trading and Risk Scenarios
Optimise Commodity Trading Plans (Contract Portfolio)
Comprehensive Multi-mine Supply Chain Logistics
For any level of optimisation complexity, from single mine to multi-mine operations with complex processing and logistics
Integrated Planning and Optimised Scheduling that can be actioned on time with full material traceability from multiple mines to vessels
Supply and Logistics Planning
Demand Scheduling for Supply Chain Management
Stockpile Optimisation and constraints
Forecast Delivery Risks and Audit Compliance to Plan
With Business Silo Knowledge
Mining (Production Schedules)
Shipping (Vessel Arrival Schedules)
Production Actuals (Survey and Lab Data)
Finance (Pricing Calculations and Reports)
Processing (Plant Operations)
Stockpiling (Stockpile Constraints)
Customisable via turn-key Digital Twinning of your organisation
For Every Activity and Handling Point
Haulage
Transport
Loading and Unloading
Multiple Processing Plants
Stockpiling
With Multiple Optimisation Objectives
Consistently Optimal Quality
Deliver Contracts
Optimise Commodity Trading
Optimise Anticipated Inventory
Optimise Port Efficiency and Reduce Demurrage